Unravel Your Paradox
Your Ultimate Guide to Paradox Hotel Vancouver
Discover the answers to frequently asked questions for a seamless and delightful stay at Paradox Hotel Vancouver. Our comprehensive FAQ page addresses any questions that might surface as you plan your stay or even while you're with us. From check-in procedures to detailed insights into our services, dining and wellness facilities, this page is your all-access pass to every information you need about the Paradox Hotel Vancouver.
HOTEL LOCATION & ACCESSIBILITY
We are located on 1161 West Georgia Street, Vancouver, BC.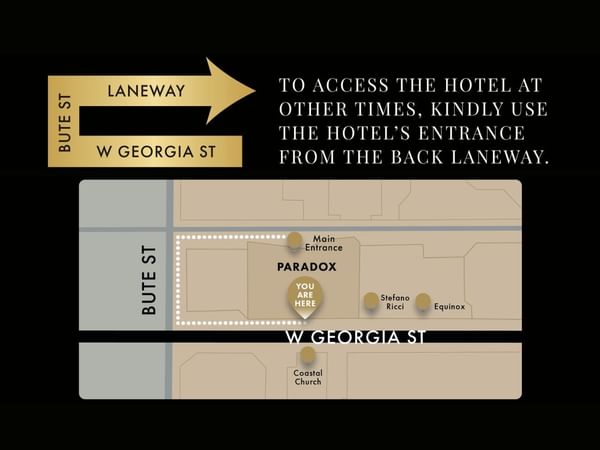 There are two ways to access the hotel's lobby:
Main Entrance: The hotel's main entrance is conveniently located at the laneway between West Georgia St. and Melville St. This entrance provides direct access to the hotel lobby at all times.
Karma Lounge Entrance: If you're looking to access the hotel via the Karma Lounge entrance, please note that it is located on West Georgia St. However, please be aware that the Karma Lounge entrance is only accessible from 11:00am onwards when the lounge opens. Karma Lounge opens from 11:00am - 1:00am (Sun - Thu) & 11:00am - 2:00am (Fri - Sat). Outside of these hours, we recommend using the main entrance at the laneway for easy access to the hotel.
If you choose to access the hotel lobby through the Karma Lounge entrance, please take the elevator down to the LL Floor to seamlessly reach our inviting lobby area.
Absolutely! We are conveniently situated in close proximity to the city's major retail shopping centres, including Hudson Bay and Pacific Centre. Additionally, the vibrant cafes and restaurants of Robson Street are just a stone's throw away.
Paradox Hotel Vancouver is conveniently located just 14 kilometres from Vancouver International Airport and is a short 3-minute walk from the downtown city centre. Here are the transportation options to reach the hotel:
SkyTrain: Take the Canada Line rapid transit rail system from the airport to downtown Vancouver in approximately 30 minutes.
Taxi: Taxis are readily available outside the arrivals level of Vancouver International Airport. The journey to the hotel takes about 20 minutes and costs approximately CAD$32.
Car Rental: Rental cars are available at the airport with prices starting at CAD$75 per day. Please note that the hotel's main entrance is on the laneway parallel to West Georgia Street between Bute and Thurlow. There is no parking or access via West Georgia Street.
We hope this information helps you plan your visit to Paradox Hotel Vancouver with ease.
At Paradox Hotel Vancouver, the minimum age to check-in is 19 years old. Guests under the age of 19 must be accompanied by their parents or legal guardians. We prioritize the safety and comfort of all our guests.
Certainly! If you require an extra bed or crib in your room, please inform us in advance or during check-in. We will do our best to accommodate your request based on availability. Your comfort is our priority, and we strive to make your stay with us as enjoyable as possible.
For each additional adult person (3rd/4th) staying in the same room, there will be a charge of $30 per night per person. Please note that this charge is applicable for a maximum of 3 or 4 people per room, depending on the room type.
We understand the importance of providing a pet-free environment for guests with allergies. Our dedicated housekeeping team performs a thorough deep cleaning of rooms that have accommodated pets, ensuring a fresh and allergen-free space for our guests. Your comfort and well-being are our top priorities.
The iPad in your room serves as a convenient tool for various purposes during your stay. You can use it to access the hotel directory, browse the web, stay connected with loved ones through video calls, and even enjoy your favorite movies.
Certainly! You can easily verify your account balance status and conveniently check out through the TV in your room. If you have any questions or encounter any issues, our friendly Front Desk team is ready to assist you. We strive to make your check-out process smooth and hassle-free.
You can check in at our hotel starting from 3:00pm or any time after that. We'll be ready to welcome you and ensure a smooth and comfortable check-in experience.
Our check-out time is at 12:00pm. We kindly ask our guests to ensure they have packed their belongings and returned their room keys by this time. If you require a later check-out, please reach out to our Front Desk team, and we will do our best to accommodate your request.
If you require an early check-in or late check-out, we will make every effort to accommodate your request, subject to room availability. For early check-in, please inquire before your arrival, and for late check-out, kindly make your request on the day of departure. Please feel free to contact our Front Desk, and we will gladly assist you with your needs.
We provide all our guests with the option of an express checkout. If you would like to utilize this service, simply inform our friendly Front Desk staff, and they will assist you with the process. Enjoy a hassle-free departure from Paradox Hotel Vancouver!
Our hotel's cancellation policy requires guests to notify us of any cancellations at least 24 hours prior to the scheduled arrival date. Please note that certain reservations may have specific cancellation terms, so we recommend reviewing your booking details for any specific conditions. Should you have any questions or need further assistance, feel free to contact our Front Desk team at (236) 900-6001
No, there is no additional charge for bringing your furry friends along. At Paradox Hotel Vancouver, we believe that pets are part of the family, and we welcome them with open arms. Your four-legged companions can stay with you free of charge.
Absolutely! We are a pet-friendly hotel and love welcoming furry friends.
To ensure a seamless check-in, we kindly request that you register your pets either prior to arrival or during the check-in process. Please note that while we love accommodating pets, they are not permitted in our Restaurants, Lounges, and Pool area to ensure the comfort of all our guests (excluding registered service animals).
We appreciate your enthusiasm for unique pets! While we welcome most furry friends, we kindly request that you contact us at (236) 900-6001 if you're considering bringing an exotic pet like a Komodo Dragon. Our team will be happy to assist you and make any necessary arrangements.
We prioritize the well-being of your furry friends, and for their safety and comfort, we recommend not leaving them alone in the room. However, if you need to step out briefly, we suggest ensuring they are secure in their cozy pet crate until your return. Their safety is our utmost concern.
Absolutely! We've got you covered when it comes to your furry friend's needs. Just give us a heads-up, and we'll provide dog beds, bowls, treats, and even doggy bags upon request. Your pet's comfort and happiness are important to us!
Pool & Hot Tub: 7:00am – 7:00pm
Fitness centre: 5:00am – 10:00pm
Our pool is open year-round for you to take a refreshing dip and relax. Please note that on rare occasions, the pool may be closed for private events. Rest assured, we'll always keep you informed about any closures through notices on our website.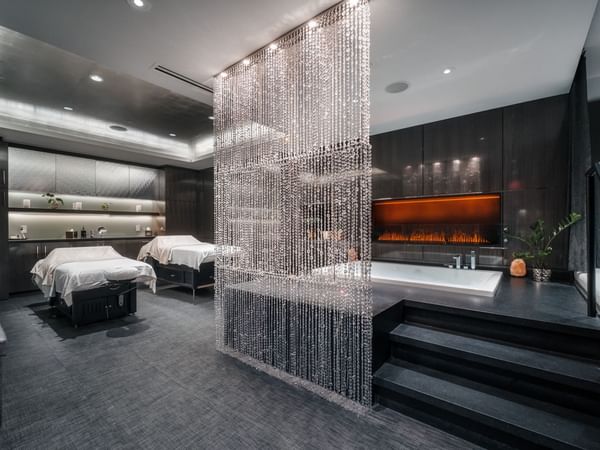 Yes! We have an award-winning spa called "Xylia Natural Spa" located on the 2nd floor of the hotel. Xylia Spa Vancouver is a luxurious spa offering a wide range of traditional and modern spa treatments designed to help you relax and rejuvenate your mind, body, and soul.
The spa features a team of experienced and professional therapists who use high-quality orgnic products and holistic techniques to ensure that clients receive the best possible spa experience. Treatments include massages, facials, body treatments, manicures, pedicures, and more.
Xylia Natural Spa Hours:
Monday - Thursday: 10:00am to 7:00pm
Friday - Sunday: 10:00am to 8:00pm
For bookings and inquiries, please contact Xylia Natural Spa at (604) 902-3956. You can also visit our website at www.xyliaspa.ca for more information.
Discover the ultimate spa escape at Xylia Natural Spa, where relaxation and rejuvenation await you.
Restaurants, Food & Beverage
Our Upper Lobby is home to the wonderful Karma Lounge and Mott 32 fine Chinese restaurant while you can also find the exciting Mansion nightclub on the Third floor.
We offer two delightful breakfast options to suit your preferences:
In-Room Dining Breakfast: Enjoy the convenience and comfort of having breakfast delivered to your room. Our in-room dining service offers a delectable selection of breakfast dishes that you can order directly from your room. Indulge in a satisfying breakfast while relaxing in the privacy of your own space. In-room breakfast is available from 7:00AM onwards.
Karma Lounge Brunch: Experience a delightful brunch at the Karma Lounge on the UL Floor where you can savor a range of brunch specialties. From mouth-watering "Karme Big Breakfast" to organic nutrient dense "Power Bowl", Karma's brunch menu offers something for everyone. Brunch is served all week long, from 11:00AM to 3:00PM.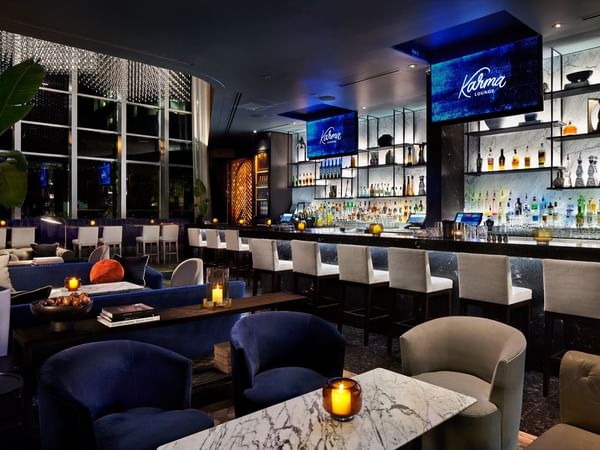 Karma Lounge Vancouver is an upscale hotel lounge and bar that offers a delightful fusion of delicious West Coast flavors, shared plates, award-winning mixology, and live music throughout the day and night. Whether you're looking for a brunch spot, happy hour destination, or an evening of entertainment, Karma Lounge has you covered. With its chic ambiance, delectable offerings, and vibrant atmosphere, it's the perfect place to indulge in a memorable dining and nightlife experience.
Operating hours:
Sunday - Thursday: 11:00am - 1:00am
Friday - Saturday: 11:00am - 2:00am
Contact number: (778) 488-8616
Website: www.karmalounge.ca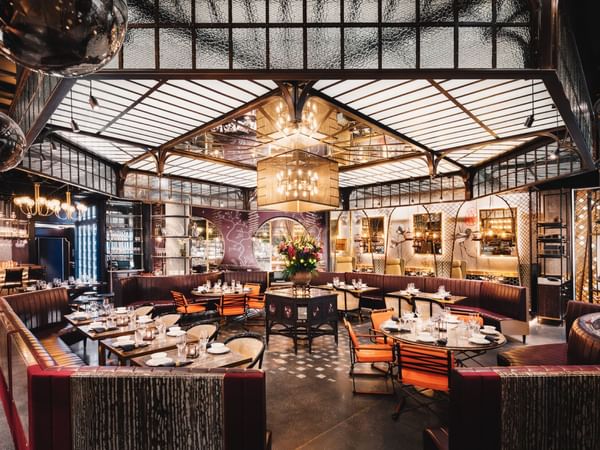 Mott 32 Vancouver is a high-end Chinese restaurant located in the heart of downtown Vancouver, Canada. It is named after the famous convenience store on 32 Mott Street in New York City, Mott 32 offers a contemporary twist on traditional Chinese cuisine, showcasing dishes crafted from locally sourced ingredients. You can find Mott 32 within the Paradox Hotel Vancouver on West Georgia Street, accessible through the Karma Lounge on the Upper Lobby (UL Floor).
Step into Mott 32's exquisite interior, where modern elegance meets traditional Chinese elements, creating a sophisticated dining atmosphere that attracts both locals and tourists seeking an exceptional culinary experience.
Operating hours:
Lunch: 11:30am - 2:30pm Daily
Dinner: Sunday to Thursday: 5:00pm - 10:00pm | Friday to Saturday: 5:00pm - 10:30pm
Contact number: (604) 861-0032
Website: www.mott32.com/vancouver/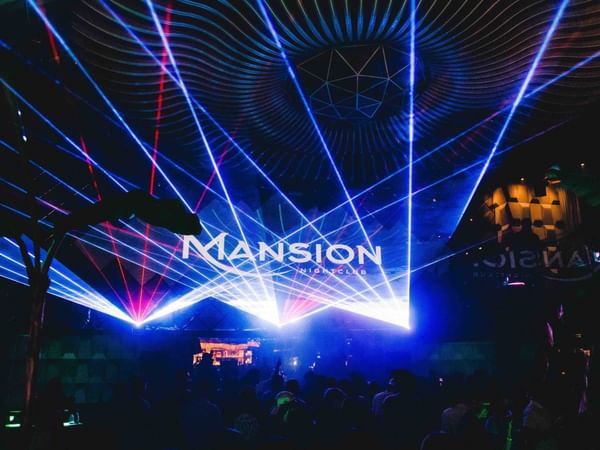 Mansion Nightclub in Vancouver is a vibrant and upscale nightclub that offers a sophisticated nightlife experience. With its modern design, state-of-the-art sound system, and multiple levels, Mansion is the perfect destination for anyone looking to party in style. The club regularly hosts top local and international DJs, making it a popular spot for music lovers. Whether you're looking to dance the night away, enjoy a few drinks with friends, or celebrate a special occasion, Mansion Nightclub is the perfect spot.
Operating hours:
Friday - Saturday: 9:00pm - 2:00am
Contact number: (604) 671-2550
Website: www.mansionclub.ca
We are delighted to offer in-house bike and e-scooter rental services exclusively for our hotel guests. Our seasonal rental partner, Puzzle E-Ride (https://www.puzzleeride.ca/), provides a range of options including regular bikes, electric bikes, and electric scooters. Whether you're looking to explore the city or venture into the picturesque surroundings, renting a bike or e-scooter is a convenient and eco-friendly way to get around. For more details and rental information, please visit the Puzzle E-Ride website.
Our lobby is a fantastic place to unwind and have some fun! We have a pool table and a foosball table ready for you to enjoy. Challenge your friends or fellow guests to a friendly game and make some unforgettable memories during your stay. Let the games begin!
If you're interested in the Hop On, Hop Off bus tour, you can find the closest stops at the Blue Horizon Hotel on the Robson Street or Sutton Place Hotel on the Burrard Street. They are just a short distance away from our hotel. Feel free to explore the city at your own pace and make the most of your visit to Vancouver. Enjoy the ride!
While we don't offer complimentary airport transfers, our dedicated concierge team is here to assist you in arranging a private transfer for an additional fee. Simply reach out to them via email at concierge.vancouver@paradoxhotels.com or give our Front Desk Team a call at +1-236-900-6001. They will be delighted to help you make the necessary arrangements and ensure a seamless journey to and from the airport.
At Paradox Hotel Vancouver, we offer convenient 24-hour valet parking services with unlimited in and out privileges for just CAD$55 per day. Whether you're staying with us or visiting for the day, our valet parking ensures a hassle-free experience. Please note that the daily rate covers the 24-hour period between 3:00pm – 3:00pm the following day. Should you have any further questions or require assistance, feel free to reach out to our friendly team at (236) 900-6001.
Absolutely! If you prefer self-parking, you can utilize the FortisBC Centre public parking lot located nearby. The rate for self-parking is CAD$4 for every ½ hour, with a maximum daily rate of CAD$21. Please note that the daily rate is based on a calendar day period, so if you plan on parking overnight, the rate is CAD$42 per night with no in-and-out privileges. For any further inquiries or assistance, please don't hesitate to contact our team at (236) 900-6001.
We offer valet parking services for different categories of guests:
Friends & Family of guests and Conference & Banquet guests:
Valet parking rate: CAD$28 for up to 4 hours*
Any transient valet parking lasting over 4 hours will be charged the daily rate of CAD$55*
Patrons of Mott 32, Karma Lounge, Mansion, and Xylia Spa:
Valet parking rate: CAD$18 for up to 4 hours*
Any transient valet parking lasting over 4 hours will be charged the daily rate of CAD$55*
For more information or inquiries, please contact our Front Desk Team at (236) 900-6001.
*Please note that rates and terms are subject to change.
Yes, the hotel valet can accommodate vehicles up to 7'6 / 2.29m in height. Please note that exceptions may be possible through prior notice. For self-parking at the FortisBC Centre parking lot, there is a height limit of 6'7 / 2m.
We have limited EV charging stations conveniently located at the FortisBC Centre parking lot. These charging stations are available for both self-parking and valet-parked vehicles on parking level P2. Please note that during business days, charging availability may be limited as building tenants also utilize these stations.
There is a 2-hour limit for usage of these charges regardless of self-parking or valet parking. For guests who chooses to self-park at any of the EV charging stations, kindly drop by the Valet Desk prior to parking to obtain an EV charging station parking pass which should be displayed on the dashboard of each vehicle. Please take note that the parking pass is limited and would need to be returned to the Valet Desk after use.
We have a total of 5 Level 2 EV charging stations, including 4 Tesla-specific chargers and 1 universal EV charger. Our valet team is ready to assist you with your charging needs, and they can provide further information on availability and usage.
General Hotel Information
We are proud to be a non-smoking hotel, including all of our rooms and balconies. We prioritize the comfort and well-being of all our guests, and we have designated outdoor smoking areas available for those who wish to smoke. These designated areas are conveniently located outside the hotel premises.
Please note that smoking is strictly prohibited inside the hotel, including all guest rooms, common areas, and balconies. We appreciate your understanding and cooperation in maintaining a smoke-free environment for everyone's enjoyment.
We understand the convenience of having your hotel receipt in digital format. Simply inform our Front Desk Team during check-out or send an email to frontdesk@paradoxhotels.com with your request, and we will gladly email you a copy of your hotel receipt. Please provide the necessary details such as your name, reservation number, and email address, and we will promptly assist you.
If you have misplaced or left behind any belongings during your stay, our dedicated security team maintains a well-organized lost and found area. To inquire about your lost item(s), please visit our Front Desk where our friendly staff will assist you in the process.
Kindly note that guests are responsible for the shipping costs associated with returning any lost items. Our team will be happy to provide guidance on the necessary arrangements.
For any additional questions or further assistance, feel free to contact our Front Desk Team at (236) 900-6001. We are committed to ensuring that your lost items are promptly addressed and returned to you whenever possible.
Absolutely! We understand that sometimes your travel plans may not align perfectly with your check-in or check-out times. Therefore, we offer convenient luggage storage options for our guests.
If you arrive before the designated check-in time, you can securely leave your luggage with us, and we will take care of it until your room is ready. Similarly, if you have checked out but still want to explore the city or attend to some last-minute errands, you can leave your luggage with us for a few hours.
Rest assured that our dedicated staff will handle your belongings with the utmost care and ensure their safe storage until you're ready to collect them. Simply reach out to our Front Desk Team at (236) 900-6001, and they will assist you with the necessary arrangements.
To purchase the sock monsters, simply reach out to our Front Desk staff during your stay. They will be thrilled to assist you in adopting one of these adorable companions. Each Sock Monster is available for purchase at CAD$40 plus tax. Bring home a delightful and cuddly souvenir from your stay at Paradox Hotel Vancouver!
Absolutely! We want you to find the perfect sock monster that captures your heart. Feel free to contact our Front Desk staff, and they will be delighted to show you the different sock monster designs available. Choose the one that speaks to you and bring home a unique and lovable companion!
Absolutely not! There is no limit to the number of sock monsters you can adopt. If you find yourself falling in love with multiple sock monster designs, feel free to adopt as many as you like. We believe that more sock monsters mean more joy and cuddles in your life! So go ahead and create your own adorable sock monster family.
We absolutely love collaborating with influencers and media partners! If you're interested in a partnership with us, please reach out to our dedicated Marketing team at marketing.vancouver@paradoxhotels.com. They will be more than happy to discuss potential collaboration opportunities and provide you with all the necessary information. We can't wait to hear from you!
Our hotel Press Kit is easily accessible on our website. To find it, simply visit https://www.paradoxhotels.com/vancouver/news/paradox-hotel-vancouver-press-kit. There, you'll find all the relevant information, images, and resources about Paradox Hotel Vancouver. Feel free to explore and download the press kit for your convenience. If you have any further questions or need additional assistance, please don't hesitate to reach out.