Sip, Stroll, and Art-fully Enjoy: Whistler Wine Walks 2023
Where Every Glass is a Canvas: Whistler's Artistic Wine Adventure Awaits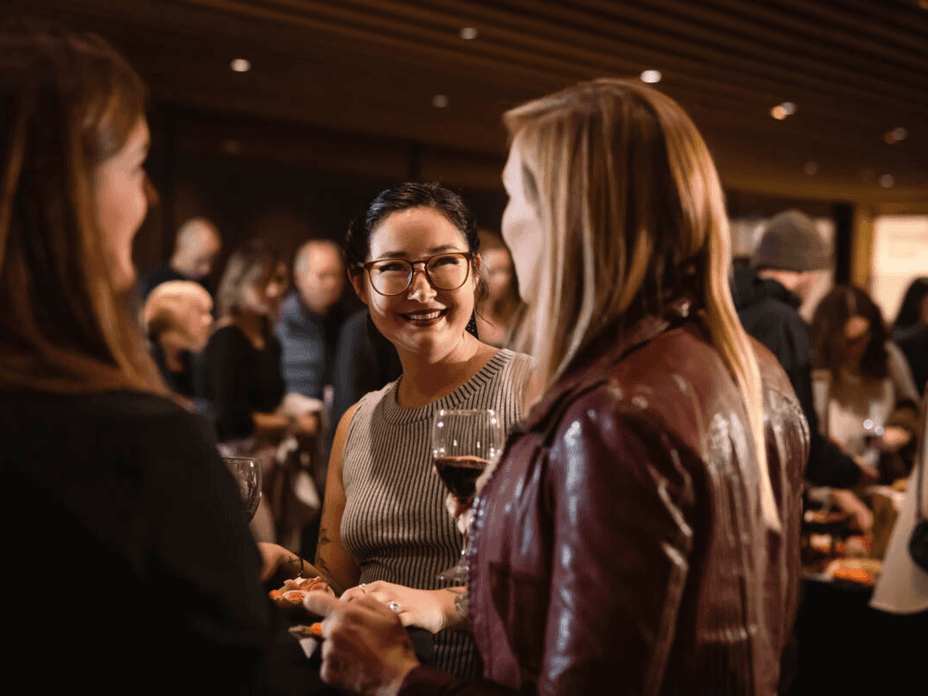 Whistler Wine Walks: A Symphony of Art and Elegance
"In every drop of wine, there's a story of the earth, a dance of nature, and a whisper of art."
As autumn paints Whistler with its golden hues, the town comes alive with a unique blend of art and wine. This October, Whistler invites you to the Wine Walks, a celebration of artistic expression and wine tasting, set against the backdrop of its breathtaking landscapes.
An Artistic Affair in October
The Whistler Wine Walks are scheduled for four Fridays in October: the 6th, 13th, 20th, and 27th. While the event on October 6th has already sold out, reflecting its immense popularity, there are still three more dates to look forward to. Each event runs from 6 PM to 8:15 PM, offering participants a delightful evening of art appreciation and wine tasting.
As you embark on this journey, each date promises a unique experience. The Wine Walk on October 6th features the exotic Montes Wines, with artists Janice Robertson & Gaye Adams in attendance, adding a personal touch to the art on display. The following week, on October 13th, wine enthusiasts can savor the flavors of Tenuta Il Poggione, while interacting with artist Christina Clarke. The event on October 20th showcases the local delights of Okanagan Crush Pad, accompanied by the artistic expressions of Mike Svob. Finally, the Wine Walk on October 27th presents the exquisite Fort Berens, with Susie Cipolla gracing the event with her artistic presence.
A Stroll Through Whistler's Artistic Lanes
The Wine Walk offers an opportunity to delve deep into Whistler's art scene. Wander through prominent galleries, interact with curators and artists, and relish the taste of exquisite wines. The journey begins at different galleries but culminates at the Audain Art Museum, ensuring a diverse and enriching experience for every participant.
Gallery Highlights
1. Adele Campbell Fine Art Gallery Wine Walk
Price: $20.00
Meeting Place: Adele Campbell Fine Art Gallery
Address: 4090 Whistler Way #109, Whistler, BC V8E 1J3
Tour Duration: 6 – 8:15 PM
About the Gallery: Adele Campbell Fine Art Gallery has been a beacon of Canada's finest talents since 1993. With a rich history and a commitment to showcasing both local and international artists, this gallery offers a diverse collection that resonates with both art connoisseurs and casual observers.
Experience: Embark on a guided walking tour that begins at the Adele Campbell Fine Art Gallery. The journey will take you through four distinct galleries, each showcasing a myriad of artistic expressions. The tour culminates at the Audain Art Museum, where participants can indulge in the latest exhibitions accompanied by wine and canapés. Each ticket ensures a 3oz wine tasting and an interactive art experience at every stop.
2. Whistler Contemporary Gallery Wine Walk
Price: $20.00
Meeting Place: Whistler Contemporary Gallery
Address: 4293 Mountain Square #110, Whistler, BC V8E 1B8
Tour Duration: 6 – 8:15 PM
About the Gallery: Whistler Contemporary Gallery, nestled in the Hilton, is a testament to modern art. It's a space where local, regional, and international artists converge to display their contemporary masterpieces.
Experience: Starting at the Whistler Contemporary Gallery, this tour offers a fresh taste of Whistler's diverse art scene. Like its counterpart, this tour also ends at the Audain Art Museum, ensuring participants get a wholesome experience of art and wine.
3. Mountain Galleries Wine Walk
Price: $20.00
Meeting Place: Mountain Galleries
Address: 4599 Chateau Blvd, Whistler, BC V0N 1B4
Tour Duration: 6 – 8:15 PM
About the Gallery: Mountain Galleries, with its roots deep in the Canadian Rockies, is a celebration of nature and art. Established in 1992, it's one of the largest commercial galleries in Western Canada. The gallery is a haven for those who seek art that resonates with the beauty of the Canadian landscape.
Experience: The tour, commencing at Mountain Galleries, is a tribute to Whistler's vibrant art culture. Participants will traverse through public and private galleries, each offering a unique perspective on art. The journey concludes at the Audain Art Museum, ensuring an evening of art, wine, and memories.
Essential Tour Information
Pre-Tour Email: All participants will receive a detailed email before the Wine Walk. This email will contain the route, schedule, maps, and walking directions for each location.
Guidance: A Wine Walk Guide will be present throughout the tour, ensuring participants have a seamless experience. Some segments of the tour may use minibuses for transportation.
Punctuality: It's crucial to arrive at least five minutes before the scheduled start time. Each gallery stop is approximately 15-20 minutes, and participants are urged to be mindful of their timing.
Meeting Points:
Group 1 - Adele Campbell Fine Art Gallery
Group 2 - Whistler Contemporary Gallery
Group 3 – Mountain Galleries
Additional Information:
Participants must be 19 years or older. A photo ID is required for age verification.
This is an adults-only event. Minors and pets are not permitted in the venues.
Booking: Ready to immerse yourself in this unique experience? Book your tickets here.
Whistler Wine Walks is more than just an event; it's an experience. It's where art meets wine, and where memories are made. Whether you're an art enthusiast, a wine lover, or someone looking for a unique evening out, this event promises to deliver. So, put on your walking shoes, bring along your love for art and wine, and embark on this unforgettable journey.