A Symphony of Sounds: Whistler's August Concert Series
Experience the Magic of Music in the Heart of Whistler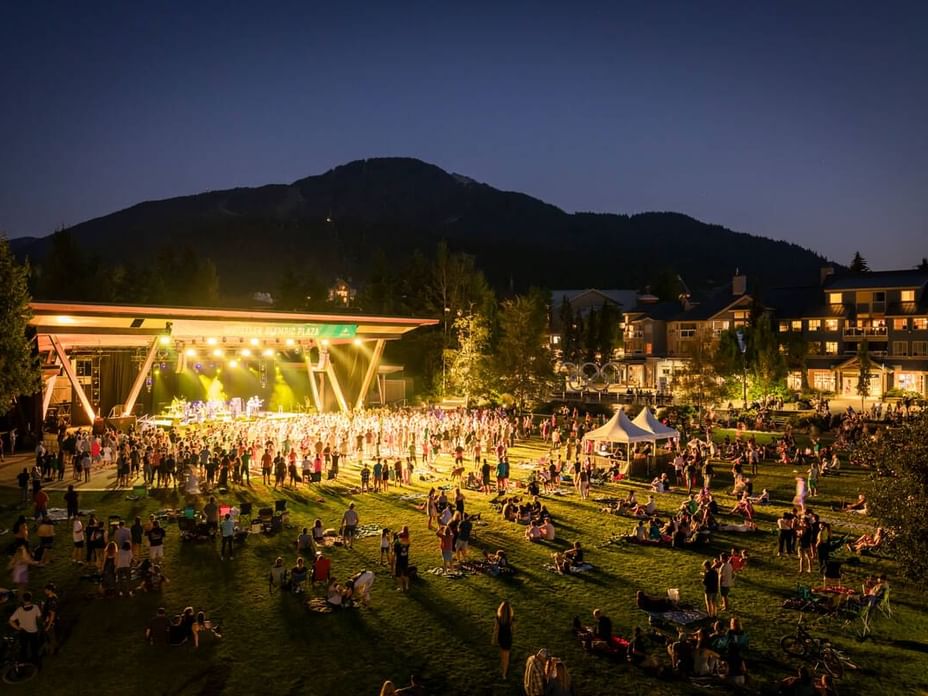 A Symphony of Sounds: Whistler's August Concert Series
As the summer sun bathes Whistler in its warm glow, the heart of the town beats in rhythm with the Summer Concert Series at the Whistler Olympic Plaza. The stage, set against the backdrop of mountains painted in hues of pink by the setting sun, comes alive with the magic of music. This August, the concert series promises an unforgettable experience, with a diverse lineup of artists set to take your breath away. From the soulful melodies of William Prince to the energetic beats of SkiiTour, the Whistler Summer Concert Series is a celebration of music that caters to every taste. So, join us as we dive into the rhythm of the summer, and let the music take you on a journey you won't forget.
The August Lineup
Location: Whistler Olympic Plaza
Time: 6:30 PM (DJ T Rex), 7:30 PM (William Prince)
The month kicks off with the Juno Award-winning contemporary roots artist, William Prince. Known for his exceptional body of work and expressive baritone, Prince's performance is a masterclass in skilful simplicity. His music is a beautiful blend of personal and universal themes, making his concert a joyous celebration of musical gifts.
Location: Whistler Olympic Plaza
Time: 6:30 PM (DJ Vinyl Ritchie), 7:30 PM (Dumpstaphunk)
Next up is Dumpstaphunk, a band that has made a name for itself as one of the most well-regarded, next-generation New Orleans live powerhouses. With their hard-hitting performance, they dare listeners not to move and groove to their beats.
Location: Whistler Olympic Plaza
Time: 6:30 PM (DJ Foxy Moron), 7:30 PM (Bruce Cockburn)
Bruce Cockburn, one of Canada's finest artists and brightest musical stars, graces the stage on August 10. His guitar playing, both acoustic and electric, has placed him in the company of the world's top instrumentalists. This legendary talent has earned 13 Juno Awards and has been made an Officer of the Order of Canada.
Location: Whistler Olympic Plaza
Time: 6:30 PM (DJ Nat Morel), 7:30 PM (Half Moon Run)
Half Moon Run, the Montreal indie rockers, are best known for their cerebral arrangements and multi-part harmonies. Their sound, though hard to categorize, is a unique blend of neoclassical dream-folk, ambient math-pop, and rustic art rock.
Location: Whistler Olympic Plaza
Time: 6:30 PM (DJ Soul Club Whistler), 7:30 PM (Allison Russell)
Allison Russell, a Juno Award-winning, Grammy-nominated musician, poet, singer, songwriter, and activist, takes the stage on August 17. She is a pivotal voice in two bands: Birds of Chicago and Our Native Daughters and is set to tell her own story on the Whistler stage.
Location: Whistler Olympic Plaza
Time: 6:30 PM (DJ TZEN), 7:30 PM (Steph Strings)
Steph Strings, an Australian guitarist, singer-songwriter, and storyteller, brings a unique blend of Celtic, blues, coastal folk, and indie-rock to the stage. Her groovy acoustic guitar riffs and enchanting sense of melody are sure to captivate the audience.
Location: Whistler Olympic Plaza
Time: 6:30 PM (DJ Sivz), 7:30 PM (SkiiTour)
Whistler's beloved, fun-loving DJ/production duo SkiiTour are known for their upbeat "feel-good house music that keeps the vibe groovy." They are expected to draw a huge local crowd ready to party to a summery version of their legendary, high-energy après ski show.
August 25: Drag in the Mountains with THE BRATPACK
Location: Whistler Olympic Plaza
Time: 6:30 PM (DJ Whitness), 7:30 PM (THE BRATPACK)
THE BRATPACK, featuring Canada's Drag Race babes Kendall Gender, Gia Metric, and Synthia Kiss, bring Drag to the Mountains. The opening show will be hosted by Vancouver's Next Drag Superstar winner, Genesis, and will feature performances by Batty B Banks, Bibi Souphresh, Continental Breakfast, King Fisher, Tiffany Ann Co, and more!
Location: Whistler Olympic Plaza
Time: 6:30 PM (DJ Lon), 7:30 PM (The Original Wailers)
The Original Wailers, featuring Al Anderson, will close out the month with an energetic performance featuring many of Bob Marley's best-known songs. Anderson, a one-time member of Bob Marley and The Wailers, is celebrated for his stunning lead guitar work on classic songs, including No Woman, No Cry.
The Vibes
The Whistler Summer Concert Series is more than just a lineup of incredible artists; it's an experience. The energy ripples through the crowd as the first note reverberates into the warm, evening air. The atmosphere is electric, with music, food, and good vibes all around. The Whistler Olympic Plaza transforms into a haven for music lovers, with the majestic mountains providing the perfect backdrop.
Making the Most of the Concert Series
Dress Appropriately
The weather can be a bit unpredictable. While it can be warm when the sun is out, temperatures can drop once it sets behind the mountains. Dressing in layers is a good way to stay comfortable throughout the event.
Be Prepared for Any Weather
The concerts will go on, come rain or shine. However, avoid bringing umbrellas or tents as they can obstruct the view for other attendees.
Comfort is Key
Consider bringing a picnic blanket to relax on the lawn. If you're thinking of bringing chairs, ensure they're not too tall or large to avoid blocking the view for others.
Family and Pet Friendly
Children and pets are welcome at the concert series. However, keep in mind that people will be enjoying their picnics and the music, so it's best to ensure that your little ones or furry friends don't disturb others.
Eco-Friendly Picnicking
If you plan to picnic, bring reusable drink bottles, straws, cutlery, and other eating implements. This helps reduce the usage of recycling bins around the plaza area.
Dining Options
Many of your favorite Whistler restaurants will open earlier on concert days. Check with them for early reservations before the music starts. They may also offer additional take-out options if you prefer to dine while enjoying the music. Whistler Olympic Plaza is conveniently located close to Main Street, a hub of grab-and-go food options.
Concert Etiquette
Alcohol and Smoking Policies
Please note that alcohol consumption is not permitted at Whistler Olympic Plaza. Additionally, smoking and vaping are not allowed.
Leave No Trace
Remember to take any garbage with you when you leave. If the bins are full, please take your garbage back to your accommodation for disposal.
Support Local Businesses
We encourage you to support local businesses by purchasing your food and nibbles from nearby establishments. And remember, if you're bringing your dog, keep them on a leash.
This August, the Whistler Summer Concert Series promises a symphony of sounds that will resonate with every music lover. From the soulful tunes of William Prince to the energetic beats of The Original Wailers, there's something for everyone. So, come and immerse yourself in the music and the magic of Whistler at the Summit Lodge Whistler. We can't wait to share this unforgettable experience with you.