Your Comprehensive Guide to the Vancouver Art Scene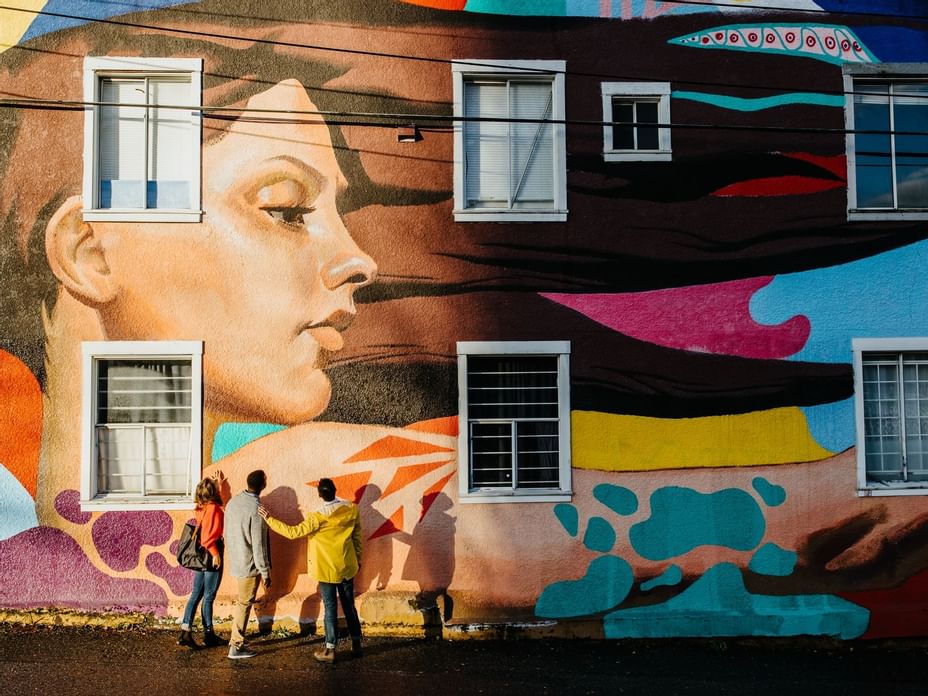 Art! We love it.
When we're not biking to outdoor installations, meeting artists in their studios over a glass of wine, or watching the best indie flicks from Canada and around the world, there's always an opportunity to attend an art-inspired event.
BIKE, WALK, OR WADDLE
Public art is something that Vancouver takes very seriously. In fact, we're so into it that we celebrate the art of public art with two annual events: the BIKEnnale and WALKennale.
Both tours are self-guided, and you can participate in either or both. The BIKEnnale (May to October) is a biking tour, while the WALKennale (also May to October) is a walking tour. Both are great opportunities to take in the outdoors, learn about public art, and hear fascinating facts about our city's culture, history and architecture. Sounds like a winning combo to us!
EASTSIDE CULTURE CRAWL
Imagine an all-day block party where you can roam people's homes for a chat and a glass of wine. That's the Eastside Culture Crawl—only instead of houses, it's hundreds of studios, and instead of chatting with your neighbours, you'll be chatting with local artists. It sounds crazy, but it's easy to take part: just download the neighbourhood guide and wander as you wish.
It's pretty cool, because you get to see what goes into making a piece of art. Like, how long does it take to make that painting? How do they make this sculpture? Where did they get that idea?
And if you want to sound EXTRA smart at dinner parties later, just tell people that the Eastside Culture Crawl was launched in 2010 by local artist and community organizer Kate Holden, who noticed that Vancouver was missing intimate public art galleries.
MURAL FESTIVAL
Vancouver Mural Festival is a once-a-year event that transforms the cityscape into an outdoor gallery. Whether you're looking for a serious conversation starter or just a good place to catch Pokémon, this festival has got you covered.
The festival started as a grassroots street art festival in the early 2000s, and has since evolved into a citywide commentary on socio-cultural issues including environmental policy, reconciliation, artistic censorship and cost of living. The event typically takes place in August — during prime cherry blossom season — and features more than 60 new murals painted by local and international artists. There are also public talks and live entertainment.
Since its inception, the festival has raised over $200,000 for local charities and has featured guest speakers like former Supreme Court Justice Frank Iacobucci.
In addition to showcasing local talent, Vancouver Mural Festival is also home to some of the most talented muralists from around the world. Many of these artists come from countries where they face censorship or imprisonment for their work. The festival provides them with an opportunity to showcase their work without fear of repercussions.
VANCOUVER INTERNATIONAL FILM FESTIVAL
Vancouver is known for a few things: rain, our infamous wildlife, and a thriving film industry. Our love of all things film has even earned us the distinction as Hollywood North, so it makes sense that we'd be home to one of the biggest film festivals in North America. Vancouver International Film Festival screens films from more than 70 countries, with an emphasis on innovation and pushing boundaries. It also hosts VIFF Immersed, which invites creators, industry leaders, and the public to dive into the world of XR (extended reality) storytelling.