Yuletide Roastery
Ellenborough Market Café
Spread joy with a curated selection of treats perfect for those who want to indulge in a sumptuous spread at home or as gifts to your loved ones with Paradox Singapore Merchant Court's Festive Takeaway Goodies. Add a touch of festivity to your celebrations with gourmet take-home treats.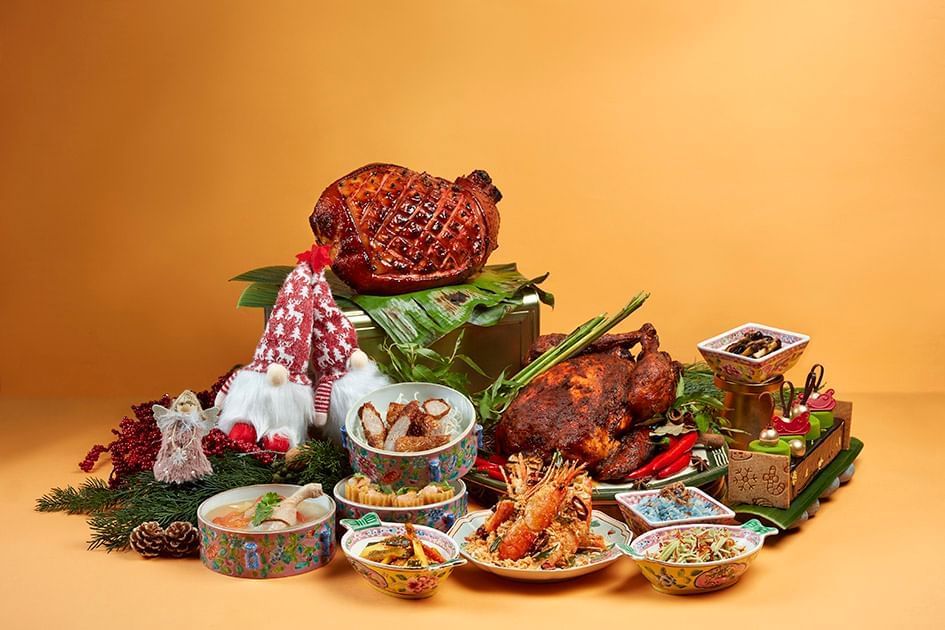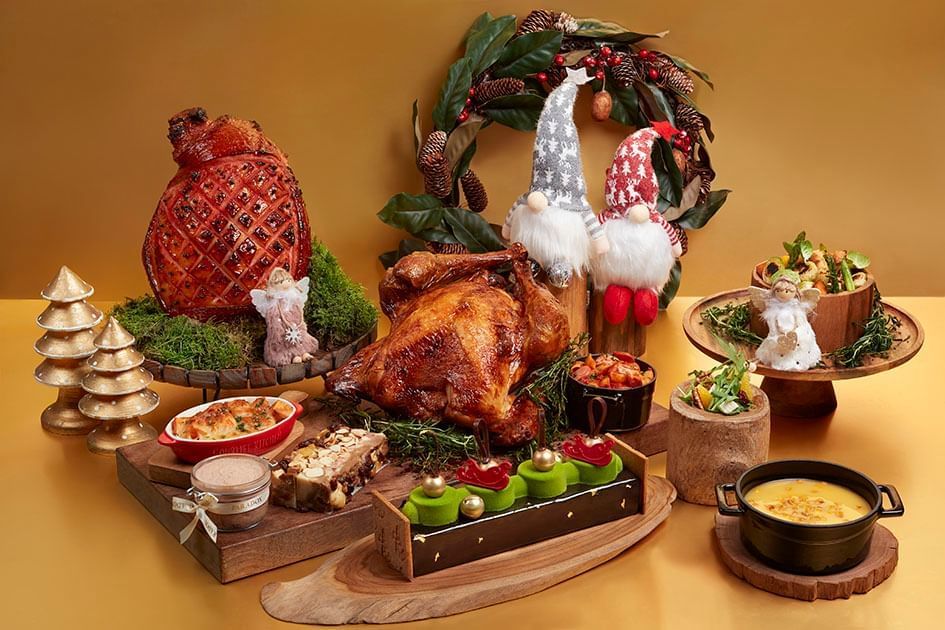 A Noel Touch of Christmas
Lay your table with our "A Noel Touch of Christmas", featuring classics such as traditional Roasted Tom Turkey filled with Apple Rasin Chestnut Stuffing and Honey Glazed Gammon Ham while promising to take centre stage of your dessert table is the Acai Banana Chocolate Log Cake. It is reminiscent of decadent Chocolate Fudge and Acai Mousse, with a layer of Caramel Banana. This fusion creates a rich berry flavour with both a bitter and sweet aftertaste which is a perfect balance of flavour.
For 8 to 10 Persons | S$428+

A Local Touch of Christmas
Alternatively, if you are looking for a unique way to add some spice to your Christmas celebration, indulge in the comforting flavours of Singapore's Peranakan heritage with our fusion of local and classic dishes. Known as our "A Local Touch of Christmas" – with our sensational roasts such as the flavourful Dry Rub Nyonya Laksa Turkey or Sweet and Sour Tamarind Glazed Gammon Ham for a delicious twist on traditional holiday favourites. Adding more Nonya touches will be the classic Nasi Bunga Telang and Nyonya Ngoh Hiang alongside the DIY Kueh Pie Tee.
For 8 to 10 Persons | S$428+

Early Bird Special
15 to 30 November 2023 | 25% off your total order | Promo Code: PARADOX25
1 to 20 December 2023 | 20% off your total order | Promo Code: PARADOX20
--
View Christmas Brochure

*Prices are subject to prevailing government tax