Spices, Saris, and Stories: Unraveling Little India's Charm in Singapore
A Kaleidoscope of Culture in Singapore's Heartbeat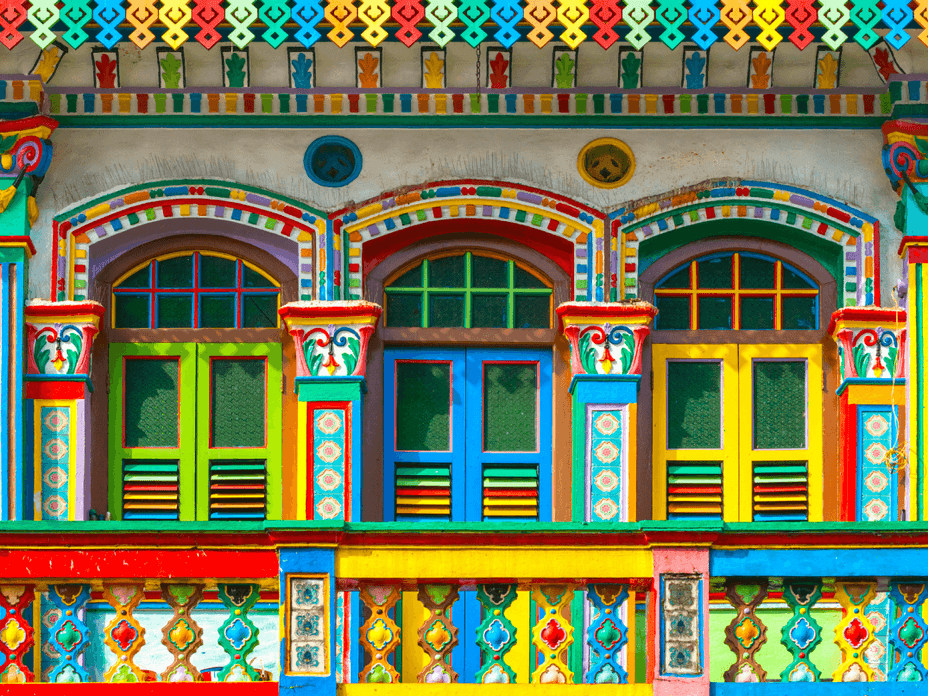 Little India in Singapore: A Cultural Tapestry
Vibrant Streets and Colorful Markets
Little India, one of Singapore's most vibrant districts, boasts a rich history that dates back to the 19th century. Originally known as Soonambu Kamban (Village of Lime in Tamil) due to its lime pits, the district has transformed over the years. From rattan works, wheat-grinding sheds, and pineapple factories to the bustling neighborhood it is today, Little India's evolution is a testament to Singapore's dynamic heritage. The streets are lined with shops selling everything from traditional Indian garments to intricate jewelry. The aroma of spices fills the air, guiding visitors to the many eateries offering authentic Indian cuisine. As you stroll through the streets, you'll be serenaded by Bollywood tunes playing from various storefronts.
Unmissable Attractions
Sri Veeramakaliamman Temple: This temple, dedicated to Kali, the destroyer of Evil, is an architectural marvel. Built in 1881, it showcases the brilliance of South Indian architecture with its ornate carvings, towering gopuram (entrance tower), and intricate statues. The temple is a spiritual oasis amidst the urban landscape, offering a serene space for reflection and prayer.
Tekka Centre: A bustling market where you can find a plethora of items. From fresh produce to clothing and even electronics, Tekka Centre is a shopper's paradise. The food court here offers a range of delectable dishes from various cuisines.
House of Tan Teng Niah: This is a vibrant and colorful villa that stands out amidst the urban landscape of Little India. It's a testament to the Chinese influence in the area and offers a perfect backdrop for some Instagram-worthy photos.
Little India Heritage Centre: This center offers a deep dive into the history of Indian migrants in Singapore. Spread across three floors, the exhibits showcase the challenges faced by early settlers, their contributions to Singapore's growth, and the vibrant culture they brought with them. The intricate statues, interactive displays, and personal narratives make it a must-visit for history enthusiasts.
Tan Teng Niah House: This colorful villa is one of the last surviving Chinese villas in Little India. With its vibrant hues and intricate architectural details, it stands as a testament to the Chinese influence in the area. The house was built in 1900 by a prominent Chinese businessman, Tan Teng Niah, and showcases a blend of European and Southern Chinese architecture.
Street Art Extravaganza: As you stroll through the lanes of Little India, you'll be greeted by walls adorned with vibrant artworks. These murals narrate stories of the area's origins, cultural influences, and the daily life of its residents. From depictions of traditional Indian dance forms to scenes of bustling markets, the street art in Little India is a visual treat.
Indulge Your Senses: Culinary & Shopping Delights
Gold Jewellery: Serangoon Road is renowned for its gold shops. As you walk down the street, the glittering displays of traditional and contemporary Indian jewelry designs will catch your eye. From intricate bridal sets to modern pendants, there's something for every taste and occasion.
Little India Arcade: This shopping complex is a microcosm of Indian culture. Wander through its narrow lanes to find stalls selling vibrant saris, fragrant spices, traditional handicrafts, and souvenirs. The arcade, with its old-world charm, offers a shopping experience like no other.
Mustafa Centre: Open 24/7, this shopping mecca is a favorite among locals and tourists alike. Spread over multiple floors, it houses everything from electronics to groceries, perfumes to apparel. Its vast product range and competitive prices make it a shopper's paradise.
Celebrations & Festivities: Diwali in Little India
Diwali, the festival of lights in November, is celebrated with grandeur in Little India. The streets are illuminated with thousands of lights, and the air is filled with the aroma of sweet treats. Colorful rangoli (floor art) adorn the entrances of homes and shops, and the sound of firecrackers reverberates through the air. The festival encapsulates the essence of Indian culture, signifying the triumph of good over evil.
Your Home in Singapore: Paradox Singapore Merchant Court at Clarke Quay
Nestled in the heart of Clarke Quay, Paradox Singapore Merchant Court is an urban resort that promises an unparalleled experience. Clarke Quay, with its rich history intertwined with the Singapore River, offers a plethora of activities, from nightlife to local dining experiences. After a day of adventures in Little India, retreat to Paradox Singapore Merchant Court. Dive into the rich Peranakan culture, savor award-winning cuisine, or simply lounge by the pool. It's not just a stay; it's an experience, ensuring your Singapore adventure is nothing short of perfect.