Unveiling Kampong Gelam: A Vibrant Cultural Oasis in Singapore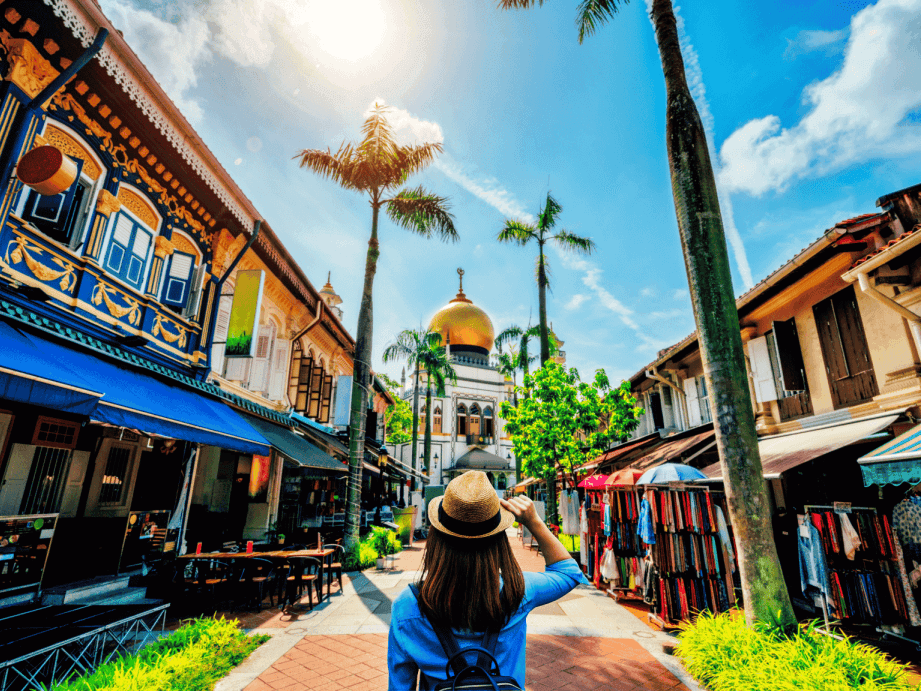 Uncover Kampong Gelam: A Cultural Melting Pot in the Heart of Singapore
Nestled just a few minutes away from Paradox Singapore Merchant Court at Clarke Quay, Kampong Gelam is a captivating historic district with a unique blend of heritage, food, shopping, vibrant culture, art and a plethora of tourist activities. Once the seat of the Malay royalty, it has transformed into a bustling enclave that welcomes urban adventurers with its rich history, diverse cultures, and hip vibes. This blog post will guide you through the must-visit attractions, things to do, and where to eat in Kampong Gelam.
Attractions in Kampong Gelam
Gelam Gallery
Start your exploration with a visit to the Gelam Gallery, Singapore's first outdoor gallery. Located in the back alleys of Muscat Street, this hidden gem showcases over 30 Instagram-worthy works by artists from the region and beyond. The gallery's vibrant murals, dominated by pop culture themes, are sure to captivate art enthusiasts and casual visitors alike.
Sultan Mosque
Next, head to the Sultan Mosque, a prominent landmark in Kampong Gelam. Built in 1824 by Sultan Hussein Shah, the mosque's grandeur, with its massive golden domes and huge prayer hall, is a sight to behold. Visitors are welcome to enter outside of prayer services, offering a unique opportunity to appreciate its architectural beauty.
Aliwal Arts Centre
If you're an art enthusiast, your visit to Kampong Gelam won't be complete without a stop at the Aliwal Arts Centre. This multi-disciplinary arts centre, located in the heart of Kampong Gelam, is a vibrant hub for artists and art groups, offering a platform for artistic talent and creativity.
Housed in a beautifully restored 19th-century building that was once the Chong Cheng School, the Aliwal Arts Centre is a testament to Singapore's commitment to preserving its heritage while promoting contemporary art forms. Here, you can immerse yourself in a variety of programmes and workshops spanning various disciplines such as music, dance, theatre, and visual arts.
The centre is home to a number of independent arts groups, providing them with studio and rehearsal spaces. It also hosts the annual Aliwal Arts Night Crawl, a multidisciplinary arts festival that showcases a wide range of art forms, from traditional to contemporary. Whether you're an artist looking for inspiration or a visitor keen to engage with Singapore's vibrant arts scene, the Aliwal Arts Centre offers a unique opportunity to experience the rich cultural heritage of Kampong Gelam.
Vintage Cameras Museum
For photography enthusiasts, the Vintage Cameras Museum is a must-visit. With a collection of over 1000 vintage cameras, this unique museum offers a fascinating journey through the history of photography. From spy cameras to pistol cameras, the museum showcases a wide range of equipment, along with retro photographs and interesting nuggets of information about photography.
Things to Do in Kampong Gelam
Shopping at Haji Lane
No visit to Kampong Gelam is complete without exploring Haji Lane, a narrow street known for its eclectic mix of boutiques, bars, and eateries. Whether you're looking for unique fashion items, accessories, or simply want to soak in the vibrant atmosphere, Haji Lane is the place to be.
Typing on Vintage Typewriters at Type8ar
For a taste of nostalgia, visit Type8ar, a haven for analogue enthusiasts and typewriter lovers. Located on the second floor along Haji Lane, this space houses an impressive collection of over 50 vintage typewriters. You can even try your hand at typing your own note or participate in a workshop to learn about the history and workings of these classic machines.
Exploring the Grand Bazaar Turkish Handicrafts
If you're looking for unique souvenirs or gifts, make sure to stop by the Grand Bazaar Turkish Handicrafts. This store offers a visual feast with its array of colourful knick-knacks, hand-painted homewares, and beautiful mosaic lights.
Where to Eat in Kampong Gelam
Hjh Maimunah
Hjh Maimunah is a must-visit for an authentic taste of traditional Malay and Indonesian cuisine. Established in the early 1990s, this popular eatery has come a long way from its beginnings as a provider of Middle Eastern-based catering service for Hajj travellers. Today, it serves up more than 40 dishes, including signature dishes like Juicy Sundanese Grilled Chicken, Lemak Siput (a type of shellfish called needle snails cooked in spicy coconut gravy), and Beef Rendang (braised beef cooked in coconut milk and spices). One of the must-have side dishes here is the Bergedil, a type of deep-fried potato patty made with a special variety of Brastagi potatoes from Indonesia. The potatoes are soft with a creamy bite, elevated in taste with a dollop of home-made sambal chilli sauce.
The Coconut Club
For a taste of local cuisine, head to The Coconut Club, where traditional Malay dishes are given a modern twist. Their signature dish, nasi lemak, is a must-try. Made with fragrant rice, juicy fried chicken, and tangy sambal, it's a dish that will leave you craving for more.
Positano Risto
If you're in the mood for Italian, Positano Risto offers a halal-certified menu featuring classics like pasta, pizza, and risotto. Their signature Positano Super Supreme Calzone is a crowd favourite, packed with mozzarella, turkey ham, mushrooms, and spinach.
Zam Zam
For a quick bite, Zam Zam is a popular choice. This century-old eatery is known for its biryani and murtabak. Their Hyderabadi-style biryani, where the meat is cooked together with the basmati rice, is a must-try.
Overrice
Inspired by the famous New York food truck, The Halal Guys, Overrice serves up delicious rice bowls topped with spice-scented meats. Their white sauce, a creamy concoction drizzled over everything, is the star of the show.
Fika Café
For a unique dining experience, Fika Café offers halal Swedish food. Their Swedish meatballs served with roast potatoes and a dollop of lingonberry jam are a hit among patrons. Don't forget to try their desserts, especially the Kladdkaka, a just-right Swedish chocolate cake.
Kampong Gelam is a treasure trove of cultural experiences, delicious food, and unique shopping opportunities. Whether you're a history buff, a foodie, or a shopaholic, this vibrant neighbourhood has something for everyone. So, the next time you're in Singapore, make sure to include Kampong Gelam in your itinerary.
Pair your Singapore Journey with Paradox Singapore Merchant Court at Clarke Quay
Complete your Singapore experience with a stay at Paradox Singapore, where modern luxury meets rich heritage. Immerse yourself in the vibrant city's culture and indulge in exceptional comfort and hospitality at Paradox Singapore, the perfect base to explore all that Singapore has to offer.