Peak Adventures & Savings
From Sky-High Zips to Snowy Treks, Dive In!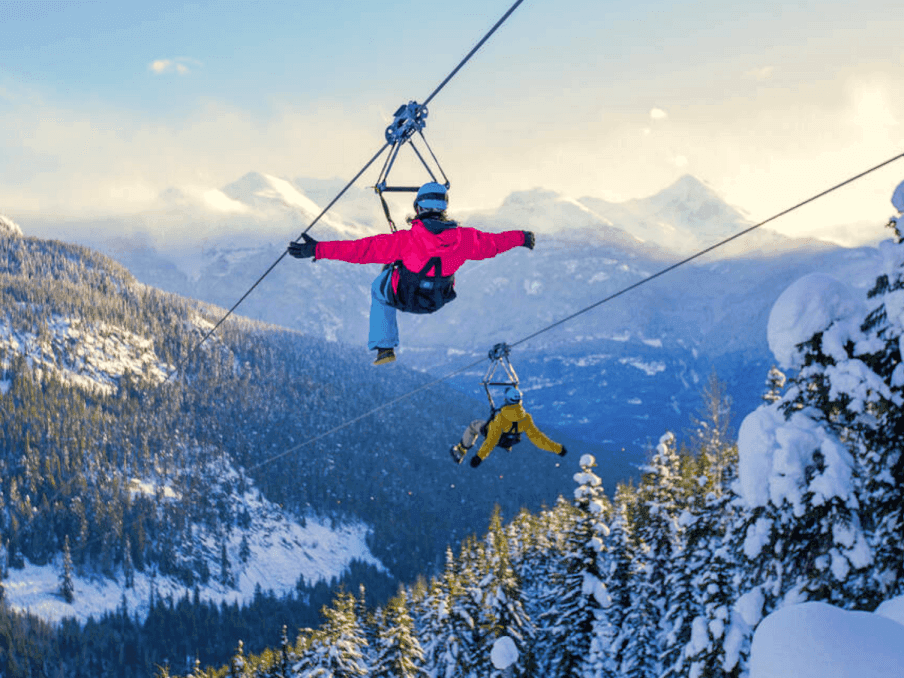 Whistler isn't just a destination; it's an invitation to adventure. Every corner of this winter wonderland beckons with thrilling experiences, and at Aava Whistler Hotel, you're perfectly positioned to dive into them all.
For the thrill-seekers, Whistler's ziplining experiences are legendary. Feel the rush of the Ziptrek Winter Apres Tour, zipping through the old growth forest, catching the magical alpenglow, or experiencing the tranquility of a snowfall. The Winter Superfly Ziplines offer an exhilarating blend of soaring through the air, breathtaking views of Cougar Mountain and the Whistler Valley, and unlimited access to snowmobiling, unguided snowshoeing, and the enchanting Vallea Lumina.
But the adventures don't stop there. Elevate your skiing experience with heli-skiing, where untouched powder and unparalleled terrains await the truly adventurous. Dive deep into Whistler's snowy landscapes with snowshoe tours like the Snowshoe Teepee Tour, where you can explore a forest steeped in tradition, or the Medicine Trail, where you'll learn about the region's flora, fauna, and traditional healing plants. For those seeking a more challenging trek, the Eagle Ridge Snowshoe and Natural Mystic Tour promise breathtaking views and deep dives into Whistler's pristine wilderness. And for a truly Canadian experience, the Canadian Campfire Cookout Snowshoe Tour offers a cozy campfire cookout under the stars.
At Aava, we're more than just a hotel; we're your gateway to all of Whistler's adventures.
Book a stay for 3 or more nights to receive a 10% discount, extend your stay to 5 or more nights for a 15% discount, or enjoy a 20% discount when booking for 7 or more nights. Plus, save an additional 15% with our Member's Rate when booking directly.
Highlights
3+ nights 10% off
5+ nights 15% off
7+ nights 20% off
Save additional 15% when you sign up for Member Rates
Terms and conditions
Booking Period: November 16, 2023 - April 30, 2024
Stay Period: December 1, 2023 - April 30, 2024